Welcome to the U.S.S. Midway!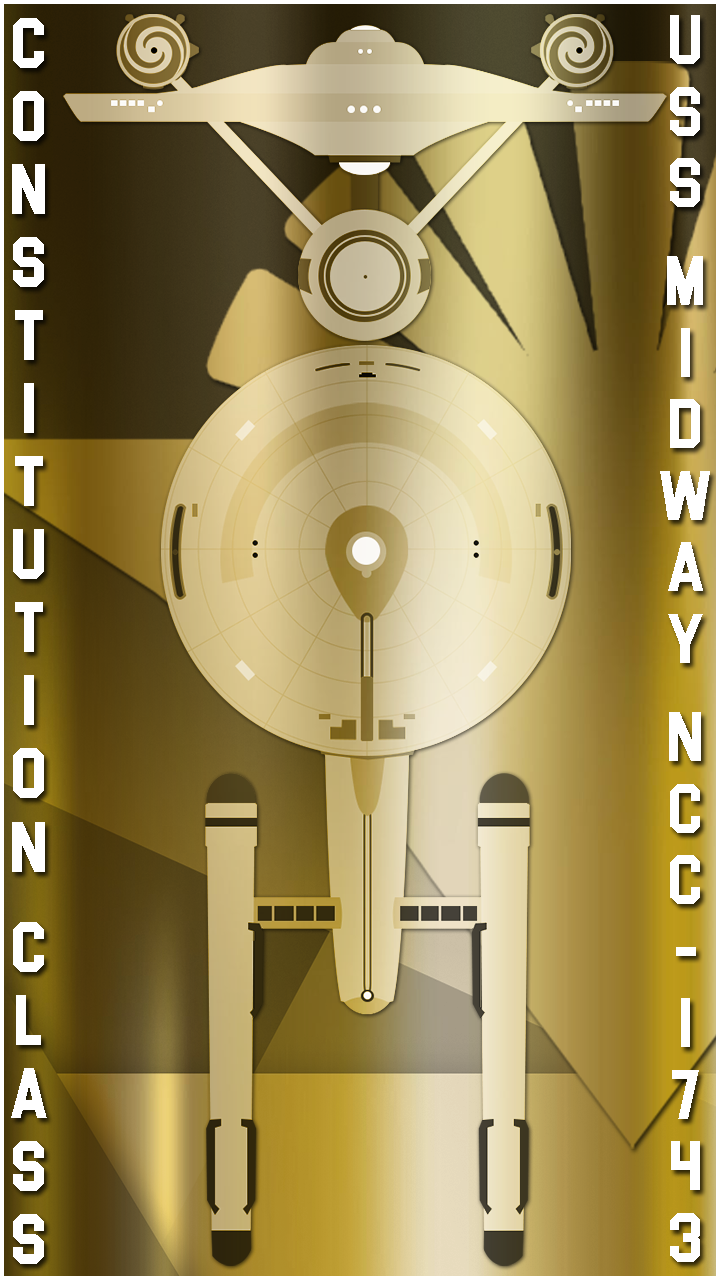 Return to the final frontier when the ships were sleek and women were sleeker. When the Captain led missions and anyone on the away team wearing red was doomed. An age where decisions were made instantly and instructions from Starfleet arrived later. When the Klingons couldn't be trusted and the Romulans died with honor.

The year is 2268, the U.S.S. Enterprise (NCC-1701) and the rest of her remaining Constitution-class siblings are actively exploring the Alpha and Beta Quadrants. The U.S.S. Midway (NCC-1743), rushed into service due to the loss of the Constellation, Excalibur, Intrepid and the Defiant, is now ready to launch from the San Francisco Fleetyards under the command of her newly promoted Captain Tristan S. Faust.

Come join the crew of the Starship Midway as her crew take on the worst the universe has to offer as they patrol the wild borderlands along Klingon and Romulan space, thwart pirates and and slavers, endure meddling know-it-all bureaucrats, match wits with insanely powerful alien entities, insane computers and sneaky confidence trickster, all while hoping their shirts don't get torn in the process.


Current Mission:



Starship Midway is an award winning Play By Nova Simulation and a member of Theta Fleet.

This story is rated:


(Language, Sexual Themes and Violence Allowed with Limits)






Interested in joining the story or just like the color of the carpet? Stop by our Discord Server!



Starship Midway is a fan written serial and is strictly not for profit and is not endorsed, sponsored or affiliated with ViacomCBS Inc. or the Star Trek franchise. All STAR TREK trademarks and logos are owned by ViacomCBS Inc.
This site is hosted by:


Terms of ServicePrivacy PolicyContact us
Latest News Items
Posted on Sat Sep 2nd, 2023 @ 2:59pm by Arianna D'Tal in Sim Announcement
Hi,

Just wanted to let you know that the Terms of Service Agreement for the jasoncollege24.com server has been updated with changes that go into effect on October 1st, 2023. This update applies to all domains, and subdomains that host RPG websites.

This update adds a new section regarding (what I hope are reasonable) RPG website activity policies that outline what happens to RPG websites that go completely idle for an extended amount of time. (eg dead games)

These changes are being added to help ensure that server resources, and webmaster maintenance time are conserved, by reserving them for active games on the server.

The new section to look for is called "Hosted RPG Activity Policies." Nothing else has been changed. Check out the updated policies HERE. Your continued use of services, after these policies go into effect means that you automatically accept these updated terms.

Regards,

Posted on Sun Aug 20th, 2023 @ 1:58pm by Arianna D'Tal in General News
Hi,

To make support a little easier overall, I'm debating on adding a service status page. This page would allow users to see at a glance, what services may be down, and it should allow users to leave comments, and subscribe to service updates, among other things.

Such a page would be hosted outside of the jasoncollege24.com domain (so if the entire server goes down, the status page is still up). I'm still researching a bit, so more details are not yet available.

If this sounds like a support option you'd like to see, please react with a thumbs up on this message (discord only).

Comments and other feedback are welcome as well. If you want to leave other feedback, or you do not use Discord, you can use any of my currently available support options.

Please do not use RPG PMs, as I may miss those, and am planning on migrating away from those as a support option.

Regards,

Posted on Mon Aug 14th, 2023 @ 4:20pm by Arianna D'Tal in Website Update
The update is completed. There is no further information about this update, and it will not be added to the changelog.

Game Masters only: Want hidden details? Contact me privately to learn more.

Regards,

Posted on Mon Aug 14th, 2023 @ 4:17pm by Arianna D'Tal in Website Update
This website is going down for an emergency security update. Due to the nature of the update, no details will be given here.

If you're in the middle of something, you should save your work, and logout. (This update will not be listed in the changelog)

Regards,

Posted on Sun Aug 6th, 2023 @ 6:39pm by Arianna D'Tal in Website Update
Hi,

Welcome to Nova 2.7.5! This version includes some bug fixes, and security updates.

For more information, visit the changelog!

Maintenance mode is now off.

This notification is being sent to Discord, and as a news post.

Regards,

Latest Mission Posts
Mission: Mission 3: The Peace Ship
Posted on Sun Jun 18th, 2023 @ 10:26am by Captain Tristan Faust & Lieutenant Commander John Stryker II & Lieutenant Commander Lucy Heartfilia & Lieutenant Commander Marc Kitchner M.D. & Lieutenant Thraxina & Lieutenant Azrel Vox & Lieutenant Shinobu Miyake & Lieutenant Laviana zh'Nolon MD & Lieutenant Michael Slatterly & Lieutenant JG Marcel Knowles & Chief Petty Officer Meredith Corden & Petty Officer, 2nd Class Harmony Stardancer & Cadet Senior Grade Avis Larant & Lieutenant Yōji Itami & Chief Petty Officer La'lei
Previously on Star Trek Midway:

Lucy sighed. "We can't all just up and leave our posts doctor. A starship doesn't run itself." She explained to him.

She looked down at Thraxina. "Reduce speed to Warp One and set us on autopilot," she ordered. She then stood up from the command…
Mission: Mission 3: The Peace Ship
Posted on Sat Jun 10th, 2023 @ 4:38am by Lieutenant Shinobu Miyake & Captain Tristan Faust & Lieutenant Commander John Stryker II & Lieutenant Commander Lucy Heartfilia & Lieutenant Commander Marc Kitchner M.D. & Lieutenant Thraxina & Lieutenant Azrel Vox & Lieutenant Laviana zh'Nolon MD & Lieutenant Michael Slatterly & Lieutenant JG Marcel Knowles & Chief Petty Officer Meredith Corden & Petty Officer, 2nd Class Harmony Stardancer & Lieutenant Yōji Itami & Chief Petty Officer La'lei
Previously on Star Trek Midway:

#Midway to Nimbus III. Had engine trouble. All appears OK at present. Back on course. ETA between 8 and 13 hours based on the current speed and possible asteroid showers en route. Will advise if anything changes. Midway out.#

In sickbay, it was Slattery's turn…
Mission: Mission 3: The Peace Ship
Posted on Sat Jun 10th, 2023 @ 4:37am by Lieutenant Commander Lucy Heartfilia & Lieutenant Yōji Itami & Chief Petty Officer La'lei & Captain Tristan Faust & Lieutenant Commander John Stryker II & Lieutenant Commander Marc Kitchner M.D. & Lieutenant Thraxina & Lieutenant Azrel Vox & Lieutenant Shinobu Miyake & Lieutenant Laviana zh'Nolon MD & Lieutenant Michael Slatterly & Lieutenant JG Marcel Knowles & Chief Petty Officer Meredith Corden & Petty Officer, 2nd Class Harmony Stardancer & Cadet Senior Grade Avis Larant
It had been a couple of days since the Midway was brought to a complete stop in the cold dead of space. The ship's warp engines had been damaged in thr incident, however the engineering department had worked around the clock to repair the damage the best they could.

Commander…
Mission: Mission 3: The Peace Ship
Posted on Sat Apr 1st, 2023 @ 5:20pm by Lieutenant Azrel Vox & Chief Petty Officer Meredith Corden
Meredith was getting lunch a little late. She'd had a lot of paperwork to catch up on since the mishap of the previous day. For once, she wasn't simply bring it with her. The mess was normally too busy. Blue eyes briefly surveyed the crowd and then landed on one…
Mission: Mission 2: Rendezvous At Starbase 10
Posted on Sun Mar 5th, 2023 @ 3:26pm by Lieutenant Thraxina & Lieutenant Azrel Vox
Thraxina's dress uniform was crumpled, the silky sheen of its material looked more light green than gold in this light. She had a ladder in her tights and her hair was all over the place: even her beautiful face showed all the hallmarks of a night ill-spent. Her eyes were…
Latest Personal Logs
Posted on Sun Feb 19th, 2023 @ 9:39am by Dvagarv "Haili" Tlagm
[Translated from some scrappy Tellarite notes scribbled in a porcine shorthand]

Chances to kill Talbot

Places

En route on USS Franklin - X too much security

SB10 Possible, prob scope out on arrival

En route to NIII on USS Midway - X security less effective but still tricky NB do…